(City Conversation #53 was first published 17-May-2022)
(For a list of City Conversations by Brian Palmquist on CityHallWatch, please visit this page.)
**********
May 15, 2022—This morning during a CBC radio interview, the Mayor referred to the work of myself and Stephen Bohus, BLA, as "false diagrams."I have a few thoughts about false narratives.
This is one of the "false diagrams" the Mayor refers to—but the city has none other so media use ours
When the Broadway Plan's (the Plan) last-but-one draft was issued in March, it was the first substantive document capable of professional review. Until then, the reality of what the Plan meant was couched in survey language—the kind of online, directed "research" whose purpose was to support the Plan's top down messaging that pretends to be a plan for all Vancouverites.
The March "draft" consisted of 54 "boards" that purported to explain the Plan. I was surprised that a plan of this complexity could be presented in such a concise fashion, dived in anyway. It quickly became apparent that the Plan could actually have been explained in far fewer boards but would benefit from many more diagrams—or perhaps just a single 3D model. Stephen Bohus had previously submitted a Freedom of Information (FOI) request for access to the city's 3D model base, but this had been denied, so we determined we would have to build our own model.
We developed a two-part approach to understanding the Plan. I would use Google Earth to identify how many towers of what height the plan would permit, and approximately where. That was the easier job, involving (the hard part) reading all the 50+ new zoning areas (compared to 24 existing zoning schedules, all now to be abandoned) and identifying how many towers of what height could go in each zoning area. This allowed me to electronically paste rectangles measuring 24-meters square onto those locations where the Plan indicated a tower might go. Each square had a number in its centre, representing the number of storeys the Plan advised might go there. I told you it was simple!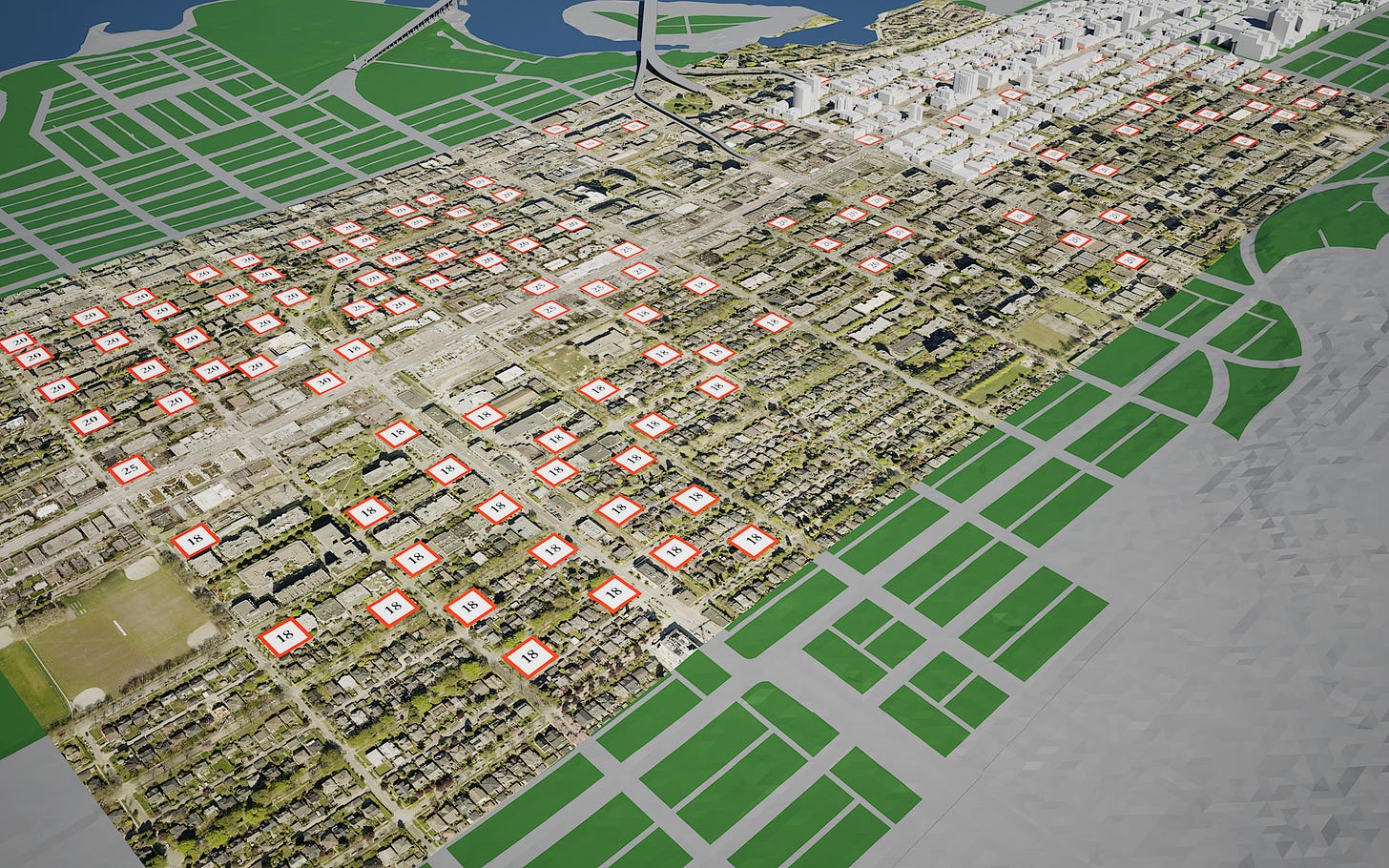 Airphoto (draped over 3D terrain) view of the Kitsilano portion of the Plan, showing contemplated tower locations and heights in storeys
Continue reading