(City Conversation #78 was first published 4-Sep-2022)
(For a list of City Conversations by Brian Palmquist on CityHallWatch, please visit this page.)
Intro by CityHallWatch: Brian is currently going through the citywide Vancouver Plan, which was adopted as one of the last decisions by City Council in July 2022 prior to the October 15 election. We believe that a very small fraction of Vancouver residents know about the Vancouver Plan and it real implications. This article looks specifically at Renfrew-Collingwood neighbourhood with five Skytrain stations. Excerpt: "…. what you're saying the Vancouver Plan means for Renfrew-Collingwood is: much higher density pretty much everywhere; high-rises marching along the edges of Kingsway but not actually on it; and very dense development for a 10-block radius around the SkyTrain stations." This means a lot of speculation, disruption, demolition, renoviction, and construction in Renfrew Collingwood. But depending on who gets a majority (6 of 11 seats) on Council in October, the Vancouver Plan could be modified or repealed. The Vancouver Plan is supported by all parties except TEAM for a Livable Vancouver, which has pledged to withdraw the Vancouver Plan and Broadway Plan. Meanwhile, if David Eby becomes premier of BC this fall, his intention is to eventually eliminate public hearings on rezonings in Vancouver, basically cutting the public out of urban land use decisions.
**********
September 4th 2022—3rd in a series about what the recently approved Vancouver Plan means for each of the city's 23 existing neighbourhoods. In Renfrew Collingwood it's the end of low density, even medium density. Read on.
The Vancouver Plan view of the Renfrew Collingwood neighbourhood—neighbourhood boundaries in red added by me
"This diagram's an ode to pink!" commented my son as he looked at my next neighbourhood Vancouver Plan analysis. "What's the pink, and why is there so much of it?"
"Before I get to that, a bit of a historical comment. Renfrew Collingwood went through a community visioning process that started in 2002—many meetings led to a 75-page Vision document. The Vancouver Plan sets that work as well as the more recent 2010 Norquay Village plan aside in favour of much increased density, without any reference to all the work the neighbours contributed in the past."
I continued. "The existing density of this neighbourhood is already 17% more than the Vancouver average—the Vancouver Plan will push that even higher." He looked puzzled, said, "So let's come back to these smudgy colours—what do they mean?"
I focused on the plan. "The Vancouver Plan only identifies five different neighbourhood types. That's not to be confused with an existing neighbourhood, of which Vancouver has 23, including Renfrew Collingwood."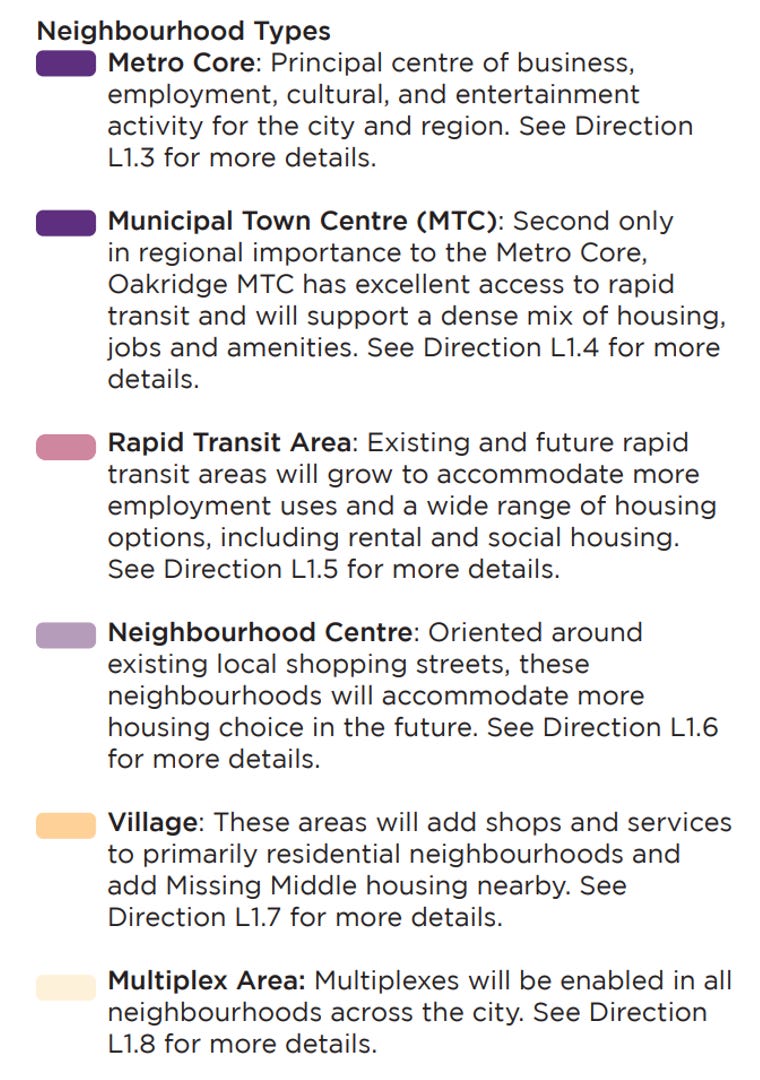 The Vancouver Plan's Six Neighbourhood Types
I continued. "Four of the six neighbourhood types occur in Renfrew-Collingwood:
Rapid Transit Centres are the pinkish blobs you mentioned, centred around each of the five SkyTrain stations—they extend for about a 10-block radius around each station. The Plan describes this as Low-rise, mid-rise and high-rise multi-unit buildings generally up to 12–18 storeys. 25+ storeys in strategic locations. Corridor: 35-80 Jobs + People/hectare Station Area: 60-350 Jobs + People/hectare.
A Neighbourhood Centre runs along Kingsway for its whole length inside the neighbourhood. The Plan describes this as Low-rise and mid-rise multi-unit buildings generally up to 12 storeys. Minimum residential density: 40-60 People/ hectare.
There appear to be three village areas: one along Rupert centred between Grandview and East 29th; a smaller one centred on Renfrew Street about midway between Grandview and East 29th; and a final smaller one in the lower left corner near East 41st and Nanaimo. The Plan describes these as Low-rise multi-unit residential and mixed-use buildings generally up to 6 storeys. Minimum residential density: 40 People / hectare.
Finally, there are a few left over light coloured bits called multiplex, which the Plan describes as Primarily ground-oriented residential including single, duplex and multiplex dwellings. Up to 6 storeys for rental or social housing where the Secured Rental Policy (SRP) applies."
"The names of these neighbourhood types seem unthreatening—what do they actually mean?" asked my son. 
Continue reading