In racing to put the Broadway Plan into force as of September 1, 2022, the previous City Council unleashed a monster, resulting in an unprecedented flood of rezoning inquiries. In a 52-page report "Broadway Plan Implementation" going to City Council on March 29, planning staff are now realizing this and are trying to mitigate massive disruptions in the area, with one option being a Pace of Change policy limiting applications to five per year. The Broadway plan area consists of nearly 500 city blocks, many of which have existing purpose-built rental buildings. Thousands of renters are in the bullseye.
The agenda, documents, and instructions on how to write or speak to Council on Wednesday, March 29 (online or in person) are at this link (https://council.vancouver.ca/20230329/pspc20230329ag.htm).
In an interview by Michelle Eliot on CBC Radio (link), ABC Councillor Mike Klassen already signals that the majority-holding ABC party under mayor Ken Sim is likely to support the elimination of the "pace of change" controls, claiming that renter protections are the best in North America. OneCity's Christine Boyle basically sees no problem with eased restrictions. Vancouver Greens' Pete Fry says that the 'pace of change' is a misnomer. This policy should be referred to as the "pace of demoviction" policy, as that's what it really is.
As a side note, in another item of the same March 29 meeting (Item 3. West End Rezoning Policy: Secured Rental Housing Option in the Burrard Corridor) planning staff are recommending Council make permanent an interim rezoning policy that, if adopted, would put another couple thousand renters immediately and directly into the demoviction bullseye.
What do renters have to say about the Broadway Plan pace of change policy? Here, with permission, is a thread from the Vancouver Tenants Union (@YVRTenantsUnion) that lays it out concisely in four tweets, in response to an article by Kenneth Chan in Daily Hive.
Link – https://twitter.com/YVRTenantsUnion/status/1640487125882929152
********
Developers' hysteria over the pace of change for the #BroadwayPlan is a distraction. The real question is "Should we displace thousands of families in the next few years for profit?" Our position is no. Curb your enthusiasm for destroying our homes and build elsewhere first. 1/4
We believe tenants should have the right to stay in their neighbourhoods and be financially protected during construction, and return to units of same size at the same rent. None of this can happen if there aren't enough vacant units available. 2/4
Applications that directly displace our neighbours and destroy our homes should be sent to the bottom of the development pile. You can grow a neighbourhood without pushing out the people who make it what it is. 3/4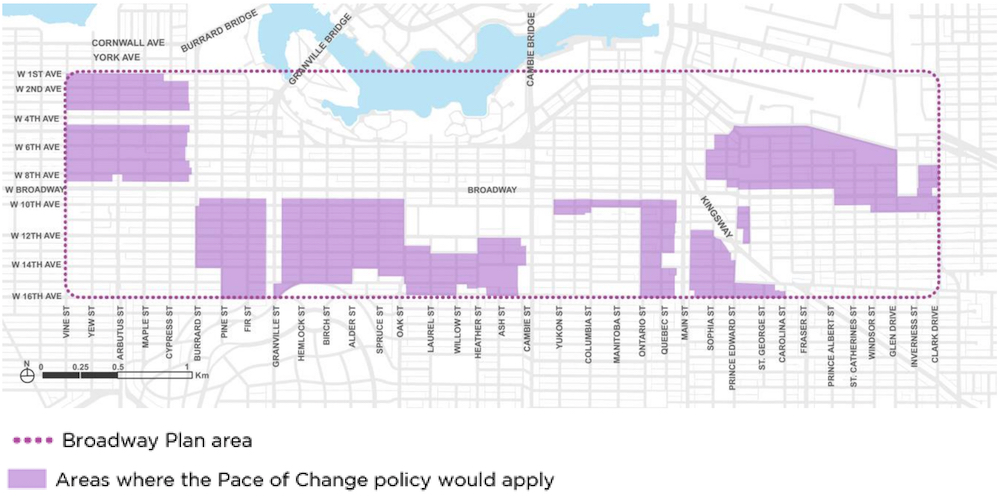 BC Gov't and @KahlonRav should butt out of #BroadwayPlan convo unless they are coming in with #VacancyControl or buying land to build lots of low rent public housing. The province has only ever tossed us band aids as our affordable stock bleeds dry. 4/4
Originally tweeted by Vancouver Tenants Union (@YVRTenantsUnion) on March 27, 2023.