(City Conversation #67 was first published 27-Oct-2022)
(For a list of City Conversations by Brian Palmquist on CityHallWatch, please visit this page.)
**********
October 27th 2022—ABC Vancouver won the Vancouver civic election handily, then deleted their platform from the web (none of the other parties have done that). By dumb luck, I screen shot the entire ABC Vancouver election platform so I could monitor its implementation—an ongoing effort.
This is the message on all ABC Vancouver web pages as of publication date—since changed, but platform remains deleted
"Are you just being a sore loser?" asked my son as he looked over my shoulder at the computer screen. He knew I had supported TEAM for a Livable Vancouver during the election.
"Not at all," I responded. "As you know, we decided to take a COVID-delayed visit to family back east for the first time in almost three years, departing the Tuesday after the Saturday election." He nodded. "So as I was shutting down my computer Monday evening I visited the ABC Vancouver website and decided to screen shot their entire 94-point election campaign for posterity. My thought was that it would be interesting to monitor implementation of their platform—I also screen shot TEAM's platform, in case as an unsuccessful party they decided to save a few dollars by shutting down their website." He shrugged, is used to my screen captures to supply images for my City Conversations. I continued.
"When I returned this past Tuesday and started trolling through accumulated Facebook and Twitter messages, imagine my surprise when I came across the news that ABC's platform was gone! As a check, I went to the websites of the former Mayor, TEAM, NPA and Progress—the sites of the major contenders are all still there. As they say in fiction writing, I've suspended disbelief in the hope that this is some kind of temporary error."
He frowned, asking: "So what's your plan?"
"Well," I answered, "as you know, I generally limit my Conversations to matters of planning, urban design, occasionally architectural design, and the municipal and provincial processes that are used to manage those files." He nodded so I continued.
"ABC has divided up their election platform differently than TEAM, so I've looked at the pertinent platforms and highlighted the parts I feel competent to comment on. For example, ABC has two housing-related platforms where I've put a red rectangle around what I feel I can comment on:"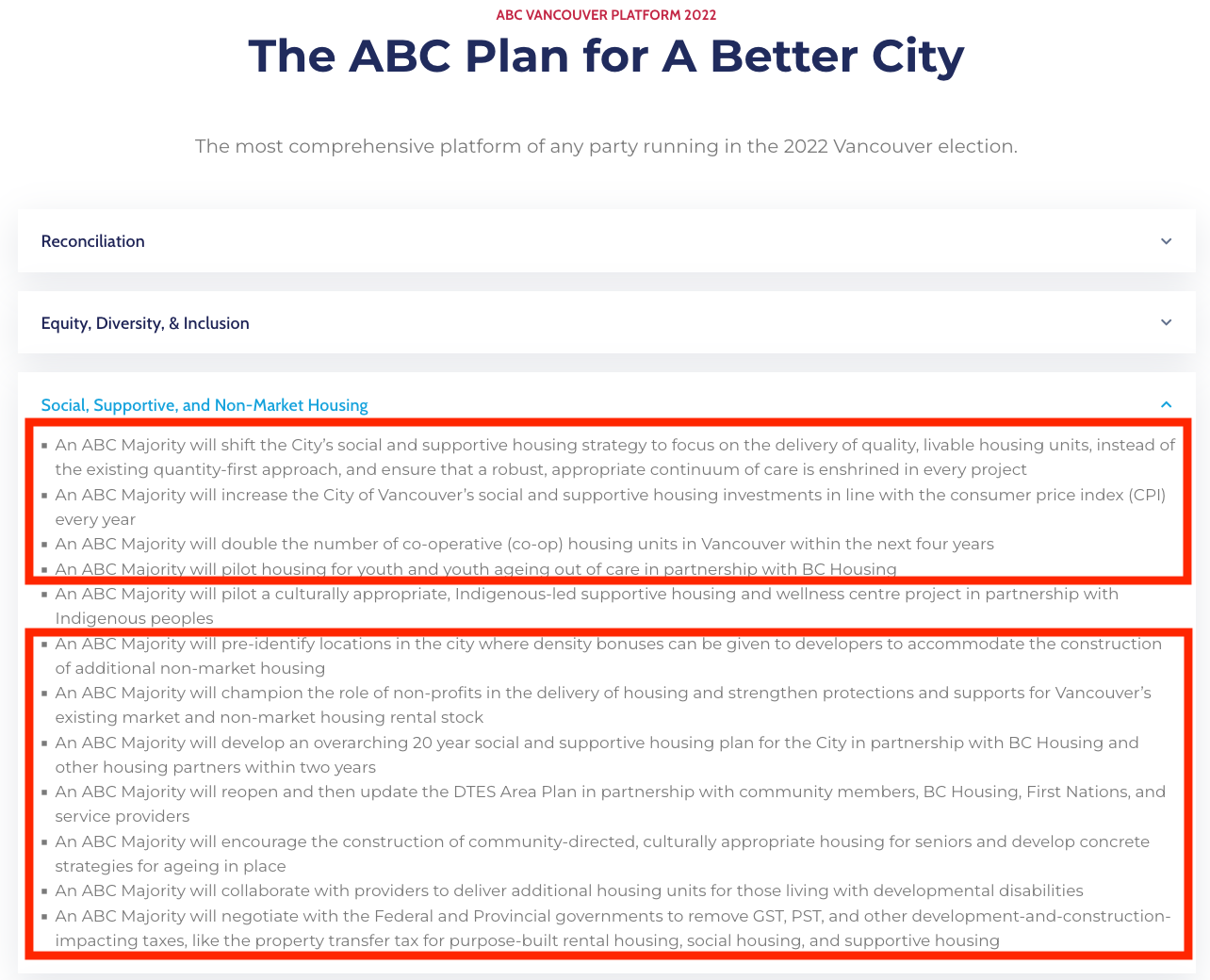 From the ABC Vancouver website—red rectangles by the author
He stared at the illustration for just a moment. "Why haven't you included the promise about indigenous-led supportive housing?"
I responded, "I think it would be presumptuous of me to comment on any promise that's focused on the indigenous communities. Some of the other items will affect those communities as well as others, so there will be some overlaps, but that promise is outside my professional and cultural wheelhouse." He nodded agreement so I continued.
"By comparison, none of ABC's promises about Market Housing are outside my areas of knowledge and experience:"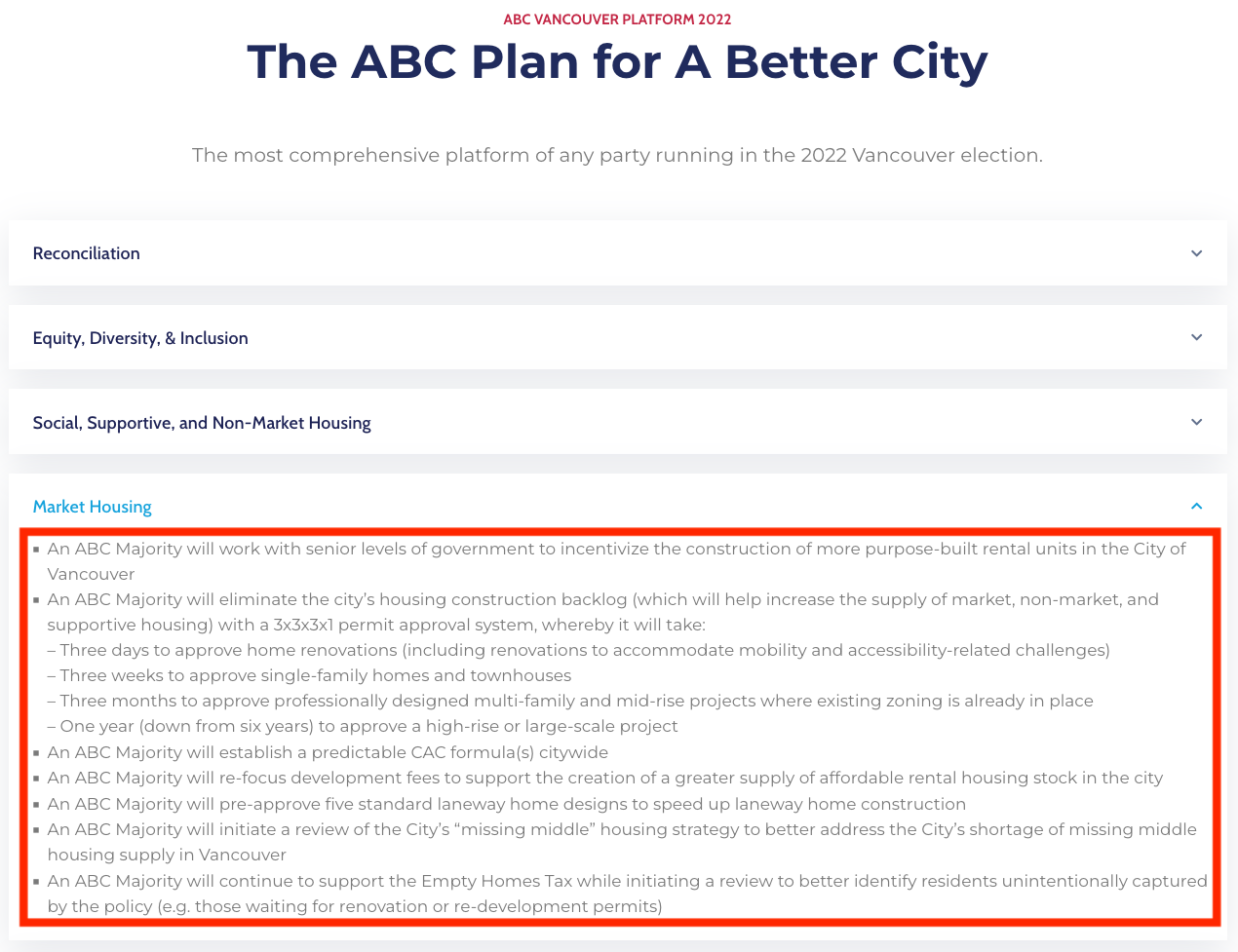 Market Housing from the ABC Vancouver website—red rectangle by the author
"After this one the ABC platform gets a bit murky—combining transportation with Design and Planning causes me to leave out some promises that are outside my interest and expertise:"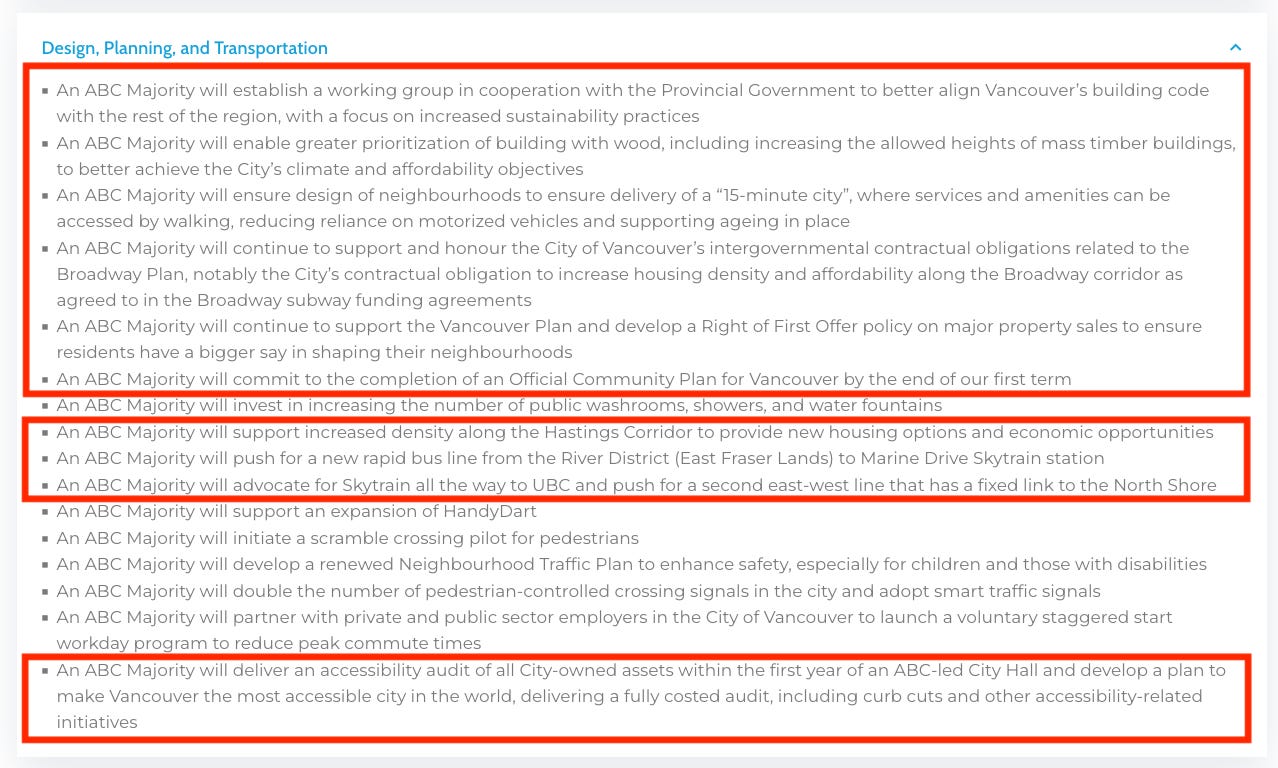 Design, Planning, and Transportation from the ABC Vancouver website—red rectangles by the author
"After this part of the ABC platform," I continued, "promises that I am competent to consider become much more limited, even though equally important—for example, under their heading, Climate Action & Sustainability:"

Climate Action & Sustainability from the ABC Vancouver website—red rectangle by the author
"Since when do you have any knowledge about GHGs, let alone their reduction?" he asked with the beginnings of a smirk.
"Prior to the election campaign and the run-up to it, I was pretty ignorant on the subject," I admitted. "But during the debates about the Broadway Plan and Vancouver Plan, as well as some of the concrete high-rise spot rezonings that preceded them, I was pointed to considerable research on the subject by scientists and engineers with the deep knowledge and credentials to consider GHG impacts and the harm coming from the types of construction favoured by city staff and the former Mayor and Council—a bit of it rubbed off."
"Where does ABC figure in that debate?" my son asked.
"I'm not at all sure," I answered. "Some of ABC's program favours lower GHG mass timber construction; other parts favour continuing the insanity of high GHG concrete high-rise construction. I just hope they figure that out before too much more damage is done." I paused. "There's much good in their program, but it contains many contradictions like the GHG yes/no elements."
He paused for a moment, running his eyes down my pages. "I count 29 promises that you've indicated you will be monitoring. So when will you sleep?" he asked with a smile.
I smiled back. "It gets worse. I didn't say I wouldn't have an opinion about the other 65 ABC promises, I probably just won't write about them."
Keeping a watching brief
ABC's 94 promises are divided into 12 categories—I've only noted four of them for personal monitoring. Vancouver is a complex city with more than its share of issues, more than half of which are outside my expertise. Contact me by email or comment to this or future posts if you'd like copies of any of the other eight ABC categories (listed in their words in alpha order):
Childcare
Economy, Sports, Arts and Culture
Equity, Diversity & inclusion
Park board priorities
Public safety, Mental Health and Community Wellness
Reconciliation
School board priorities
Transparency, Accountability and Good Government
I've not yet decided just how I will monitor the four areas and 29 promises that touch on my experience and expertise—suggestions are welcome.
---
Today's question: Which area(s) of ABC's election platform interest you the most? Why?