(City Conversation #66 was first published 22-July-2022)
(For a list of City Conversations by Brian Palmquist on CityHallWatch, please visit this page.)
July 22, 2022—How can Vancouver City Council approve spot rezoning projects where almost nothing is known about what will result? What does that say about the public's right to know what's going on in their neighbourhoods?
A typical rezoning sign these days—a mid-block image from the "Streamlining Rental" report—unfortunately this is a corner site, but who's paying attention anyway?
As I was methodically compiling my Homes for Whom database, I began to notice something I thought was odd—several of the spot rezoning projects I was looking at had no form of development either on their site sign (see above) or on their Shape Your City website, which is supposed to have all the details of a proposed spot rezoning.
Let's stop for a vocabulary moment:
Form of development is what a proposed building looks like. It's most often an artist's rendering of a proposed new project. Even where there is no rendering, the details are usually available on the city's project website, called
Shape Your City is where the city planning department keeps details of projects in process and approved. They may be proposed spot rezonings, or the Development Applications and Permits that follow when a rezoning is approved.
A spot rezoning is where an applicant proposes to change the zoning on an existing city site, sometimes to another (usually more dense) existing zoning, or most often, to a CD-1 Comprehensive Development, which is whatever the city approves after a public hearing. Note that in Vancouver city, a CD-1 spot rezoning that increases density usually involves the applicant negotiating a Community Amenity Contribution (CAC) with city staff—a dollar amount that is ostensible designated for community amenities such as schools, parks and community centres. This Council has forgiven (i.e., charged nothing) for most spot rezonings involving rental housing.
Development Applications and Permits (DA and DP) are what follow spot rezonings. Where an applicant is proposing no change to an existing zoning, then they skip a rezoning and go straight to a DA, which when approved is a DP.
Floor Space Ratio (FSR) is a measure of how much you can build on a property. For example, RS (former single family) and RT (former duplex) zones typically top out (after allowing discretionary increases based on design) at an FSR of 0.75. RM, while RM-3, one of the multiple residential zones that encompasses some of the short high-rises in Kerrisdale, for example, tops out at about 1.5 FSR. The proposal in the picture has a proposed FSR of 3.5, more than double traditional multiple residential zoning districts in the city.
Apologies for the verbiage, but it's important.
My natural sense of order was offended by seeing these signs with either incorrect or notional sketches from a city guideline. I noted the following words at the bottom of each of these signs: "the specific form of development (building design) will be reviewed through a future Development Permit process."
As I pondered the meaning of that sentence, my stress level rose, and not just because I am an Architect and like fellow professionals to get more work. As a typical example, the proposal in the picture advises:
An FSR of 3.5, more than double what is allowed for most west side high-rises
A height of up to 22 meters, more than double the RS or RT height maximums (10.7m) as well as the nearby C (commercial) zones, which are already four storeys.
No indication of parking provisions, which may be noteworthy, as the nearby 164-unit rental project at Broadway and Alma has a parking ratio of less than one space for each three homes.
Without this basic information and an image of what the building might be, how can neighbours form any opinion about a proposal?
When I spoke at Council about the Streamlining Rental initiative, I expressed concern at the over-generous height per storey allowances proposed, which have now come to pass in these detail-free proposals. So how is it that a proposed six storey building with no at-grade commercial (which usually has higher heights) is allowed to be twice as high as a four storey commercial/residential project?
Setting aside urban design thoughts, my fundamental concern is:
The absence of any form of development at the rezoning stage means the developer can minimize their rezoning costs by avoiding any design costs until/unless approved. In answer to your thought about that maybe making things more affordable…
If such as spot rezoning is successful, what's to stop the developer from simply flipping the property for its higher post-rezoning value? Answer: nothing. Several friends and acquaintances have supplied anecdotal evidence that this flipping has been occurring for some time.
I have taken to writing my opposition to each and every proposed spot rezoning that has no form of development. So far only one planner has responded to my reasons for objection, summarized as "I object to any spot rezoning proposal that is not accompanied by a form of development—Vancouver citizens are entitled to know this basic information." They responded: "Some of the information you are looking for might perhaps have been included with the proposal." That's it! I am hard pressed to not conclude they don't care.
The complete list of formless spot rezonings I am currently aware of, and the neighbourhoods in which they occur, includes: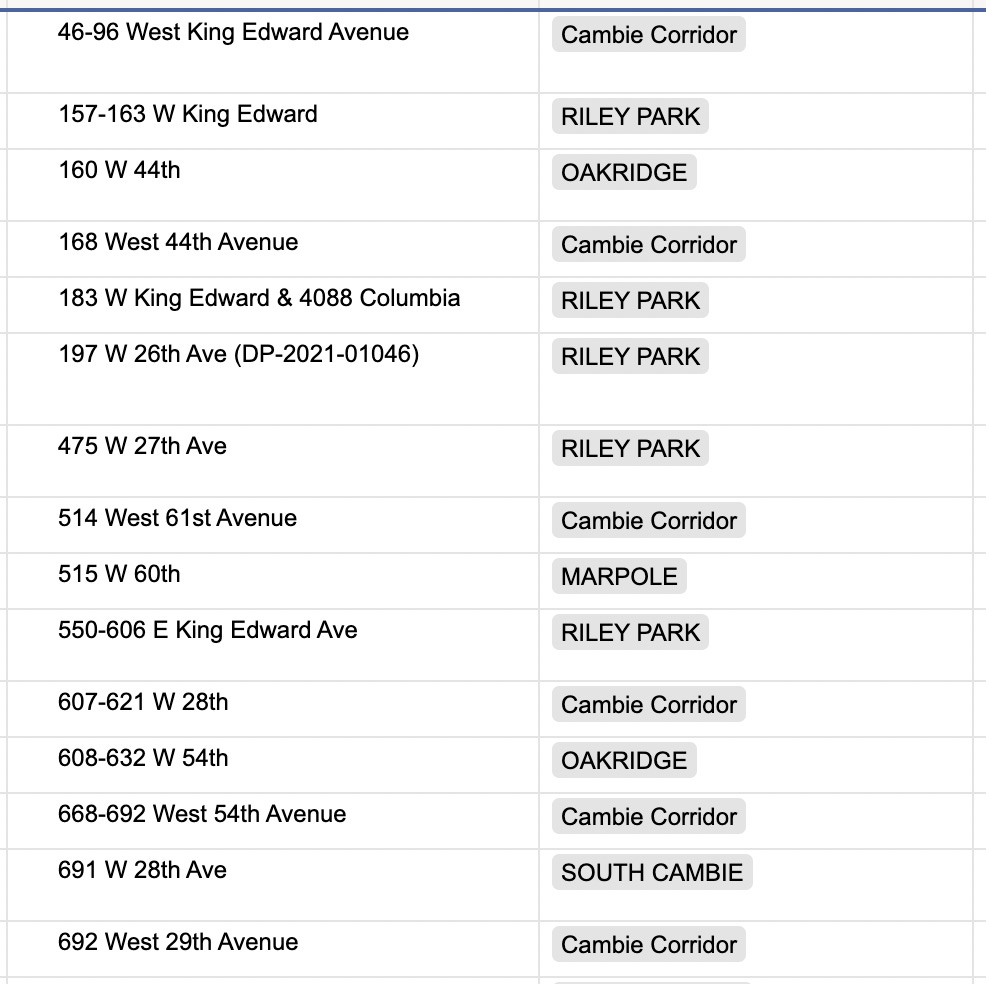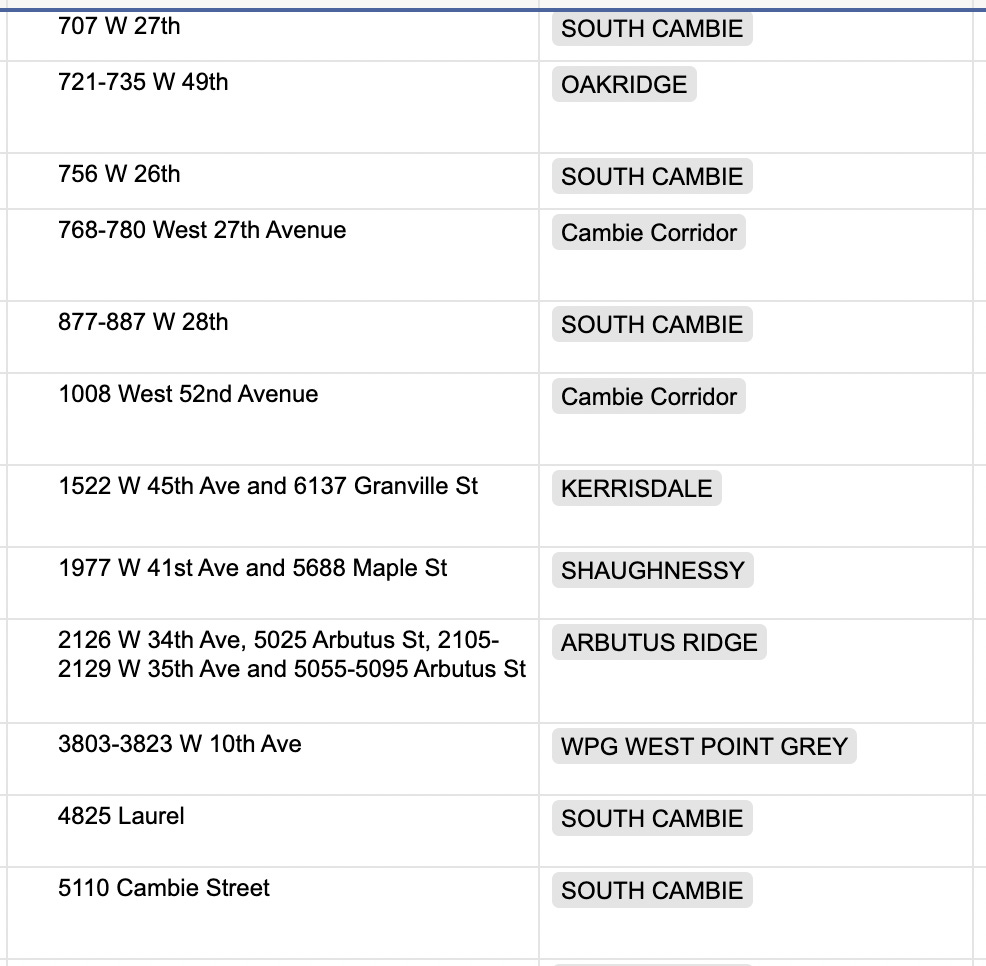 Calls to Action
I have focused here on just a few aspects of the mystery of the formless spot rezonings, of which there are currently 39 listed above that I have discovered, 10% of the total spot rezonings considered by this Council—and I am sure I have missed some. If you happen across a spot rezoning sign that is like the one at the top of this article and not on this list, email me the address (so I can reply to you personally) and I will let you know what I find. Also consider emailing Mayor and Council with your thoughts about a specific address, or about your general thoughts.
Vancouver's civic election is October 15th of this year. Lots more damage can be done to our city before that date—and it will continue, and worsen, unless TEAM for a Livable Vancouver elects the next Mayor and a majority (6 of 10) City Councillors—less than 6 and not much will change. If you are concerned that what you've just read is an example of what's wrong with our city, and want to bring back its livability, join TEAM and work with us to restore Vancouver as a place we can all afford to call home.
---
Today's question: Do you think spot rezonings should always include a design, a form of development?
I read and respond to all comments made below. If you enjoyed this post, consider becoming a free subscriber to City Conversations at
City Conversations is all about the future of Vancouver and similar communities.
I am a Vancouver-based architect, building envelope and building code consultant and LEED Accredited Professional (the first green building system). I am semi-retired for the moment, still teaching and writing, so not beholden to any client or city hall. City Conversations mix real discussion with research and observations based on my 40+ year career including the planning, design and construction of almost every type and scale of project. I am the author of the award winning Amazon best seller "An Architect's Guide to Construction." I am also a member of TEAM for a livable Vancouver, a new political party dedicated to restoring a livable Vancouver starting with the 2022 civic election. Although I am not a candidate for TEAM or any other civic party, City Conversations are generally congruent with TEAM policy, so if you like the ideas that I'm writing about, please consider joining TEAM.
Subscribe to City Conversations
By Brian Palmquist · Launched 2 years ago
City Conversations is all about the future of Vancouver and similar communities.